Recently I came across this conversation on Facebook (I blanked out names and pictures):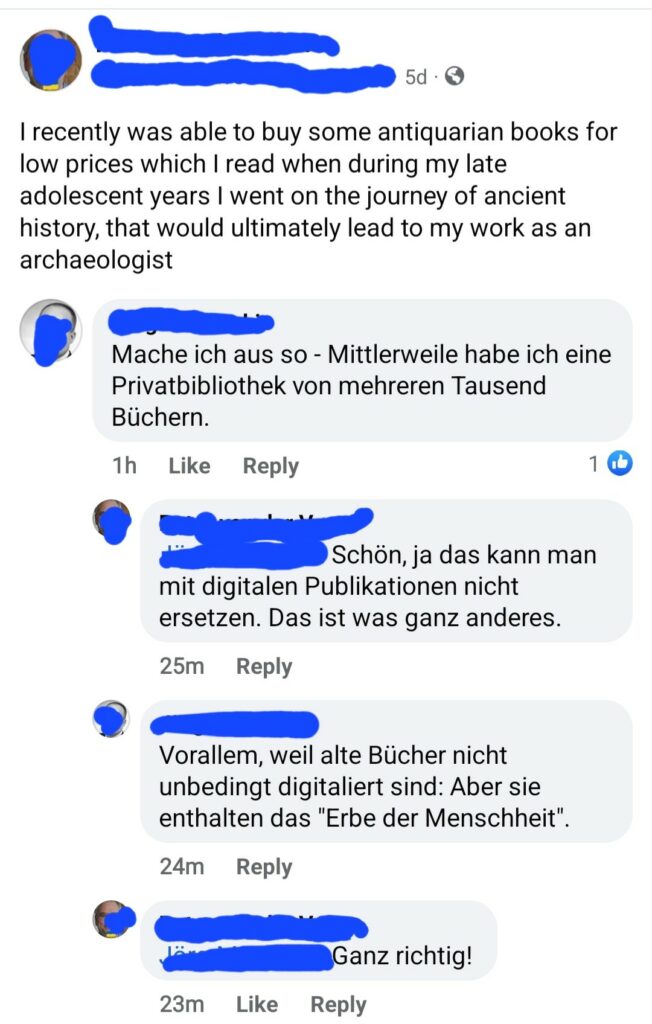 This led me to ponder my own attitude towards and relationship with books. 
My father had a huge private library of more than 2500 books on all sorts of subjects: non-fiction from politics (such as Mein Kampf and Das Kapital) to philosophy, history, medicine, etc., as well as fiction (i.e. the German classics like Goethe, Schiller, etc., as well as German novelists of the interwar period and immediately after WW2 like Kraus, Kästner, Tucholsky, Grass, etc.). As I grew up I followed in his footsteps and began to assemble my own collection of books.
After my father died and we his children had to sell the house we had grown up in to a contractor, none of us was either interested in or had enough space to take over this massive library. So with a few exceptions the books stayed in the house which within a few days was demolished to make way for terraced houses. The books became part of the demolition rubble.
As a bibliophile and avid reader I was saddened by this. In the course of my own life I relocated several times, both within Austria and to the US and back, and for reasons of logistics I had to get rid of many of my books. Then I discovered eBooks and for the most part stopped buying printed books. With very few exceptions I now buy only eBooks, in Kindle, ePub, and PDF formats. I have even purchased eBook versions of some of the books I used to own in paper.
Now my entire library fits on a USB stick, and when my time comes to depart this life my kids won't have to worry about where to find room for hundreds of yellowed books; and if they are not interested in my library they can just reformat the stick.
As much as I love books (and particularly also fine examples of the arts of typography, printing, and bookbinding, which I mostly cannot afford anyway) I realize that just like money, my computers, etc., ultimately I cannot take my books with me, and that they can all to easily become a burden, if not for me then for those who come after me.
By the way, the title for this post is taken from Ecclesiastes 14:12:
To the making of many books there is no end, and much study wearies the body.