In view of the public outrage about Pope emeritus Benedict on the occasion of the recently published Munich Report on Clerical Abuse[1] I find this  Statement by  Bishops Stefan Oster of Passau[1] very helpful and fair.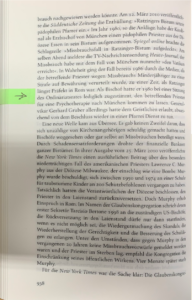 Of course Pope Benedict / Joseph Ratzinger has to be held accountable for what he did or failed to do, but the assessment of these facts ought to be fair. The "Report" accuses Benedict of having intentionally lied in order to mislead the investigators when in a statement on the matter he denied having been present at a specific meeting; Bishop Oster points out that Benedict's attendance at the meeting is documented in Peter Seewald's biography of the Pope emeritus which was written with Benedicts cooperation. And he further points out that, contrary to the claims in the "Report", the meeting was not concerned with permitting a priest accused of having sexually abused adolescents to minister in the diocese, but rather with deciding whether to permit him to attend therapy in the diocesan territory.
It seems perfectly normal to me that a 94-year-old who is no longer completely fit physically will rely on assistants for correspondence, especially when it concerns important legal matters; that a mistake made by such an assistant is then used for frenzied mud-slinging campaign which also mis-characterizes the meeting concerned says more about the authors of the "Report" and journalists who exploit it.
As an evangelical Christian there are many things where I do not see eye-to-eye with the Pope emeritus, but his Jesus books have impressed me as the testimony of a man with a profound faith in Jesus, of a brother in the Lord[2], and I would like to remind all those who now excessively condemn him of Romans 14,4:
"Who are you to judge another's servant? Before his own Lord he stands or falls. And he will stand, because the Lord is able to make him stand."
__________
despite the fact that I did not agree with everything in the books[↩]