When two days ago (Friday, 15th May 2021) the Austrian government expressed solidarity with Israel by
flying the Israeli flag
on the Chancellery and Foreign Ministry buildings, several particularly intelligent individuals (i.e. FPÖ chair Hofer as well as Facebook commenters) have opined that this expression of solidarity contravenes the consitutionally mandated
perpetual neutrality
of Austria.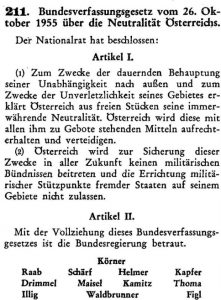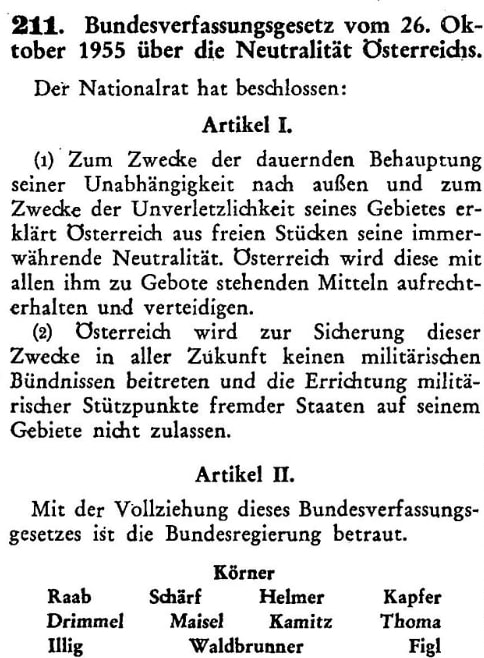 But
Austria's neutrality
has always been understood in military terms, not in terms of ideology or world view: The Austrian constitution itself just mentions neutrality but doesn't define it, while the Neutrality Act of 1955 (which is considered part of the constitution) clearly defines it in military terms—no membership in alliances, no foreign military bases in Austria (see the attached screenshot).
During the talks which produced the
Austrian State Treaty
which in turn terminated Austria's occupation by the WWII Allies, Austria's negotiators in Moscow used the expression
neutrality on the Swiss pattern
to make clear that this was
not
a moral or ideological neutrality—hence Austria, while not a NATO member, was nevertheless always a western country, and today cannot be morally neutral vis-á-vis terrorist organizations such as
Hamas
.
It is this same Hamas which for a number of days has relentlessly been firing rockets at the Israeli civilian population; and they do this using bases and launchpads located in the midst of civilian residential areas, often next to hospitals and school—so that the inevitable and justified Israeli counter strikes will produce a high civilian death toll, including children, which can then be exploited for propaganda purposes.
In the face of this situation the demonstration of solidarity by the flying of the Israeli flag is clearly not unconstitutional or in contravention of Austria's perpetual neutrality; rather, this solidarity is entirely appropriate especially given Austria's history.  We should not forget that when Austria's anthem waxes poetic about being "home to great sons" this includes the likes of Adolf Hitler and not a few of his henchmen—great, of course, in terms of their tragic impact on world history, not in the sense of moral greatness.