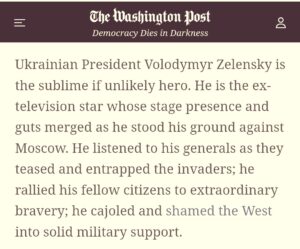 I am in full agreement with this assessment of Volodymyr Zelensky by the Washington Post's David Ignatius.
When he was elected I, like many others, politicians, journalists, and others outside Ukraine, considered him a lightweight. Putin, too, counted on the Ukrainian president being a lightweight whom he could easily blow away – a fatal mistake as it turns out.
Whether we were right in that assessment or not, both the Ukrainian president and his wife grew into their roles in this crisis created by Putin. He compensated his lack of military and political experience by surrounding himself with competent advisers and actually heeding their advice; the decision to refuse a safe haven abroad harks back to the British Royals' decision to sit out WW II in London instead of in safe exile in Canada. This decision, and his frequent video messages demonstrating that he was indeed in Kyiv, have boosted his popularity among Ukrainians: according to a March 2022 poll his approval rating is above 90%.
The screenshot at the top is taken from the Washington Post's article by David Ignatius,  "How Ukraine's offensive changes the equation for Putin and Zelensky" (September 13, 2022)